Can I Still Have Cataract Surgery If I've Had LASIK?
Do you have cataracts, but are concerned that you won't be able to have cataract surgery because you've had LASIK in the past? The good news is that for most people if you've had LASIK before, you can still have cataract surgery.
Keep reading to find out what makes this possible.
LASIK and Cataract Surgery are Two Very Different Procedures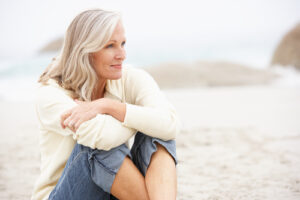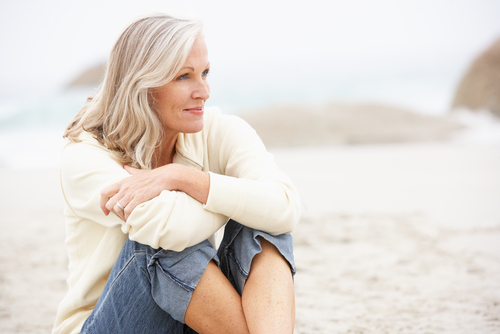 Although LASIK and cataract surgery are both vision correction procedures, this is where the similarities end. LASIK is a procedure that can correct refractive errors such as nearsightedness, farsightedness, and astigmatism by reshaping the cornea.
Although LASIK is a permanent procedure, it doesn't prevent patients from developing cataracts or other eye conditions later in life. In the case of cataract surgery, this is a procedure that has nothing to do with the cornea.
Instead, cataracts form on the natural lens of the eye, causing blurry vision, among other frustrating symptoms. During cataract surgery, your surgeon will remove the natural lens and replace it with an artificial lens, known as an IOL (intraocular lens).
Cataract surgery is a permanent procedure, and it helps you to enjoy clear vision. Many patients who undergo cataract surgery want to regain the previously clear sight they experienced with LASIK.
Because these procedures take place on different parts of the eye, most patients that have had LASIK and need cataract surgery should not run into any difficulties. To achieve the crisp, clear vision that LASIK afforded them, patients often decide on a premium IOL before having cataract surgery.
Below are the premium IOLs that we offer at Desert Vision Center:
PanOptix Trifocal Lens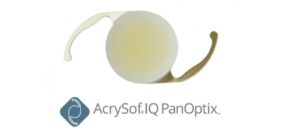 The PanOptix trifocal lens is an intraocular lens that improves your vision at three distances, including up close, far away, and intermediate ranges. It is a perfect choice if you lead an active lifestyle that demands sharper vision with a longer range of vision.

Benefits of Trifocal Lenses
Have Clear Vision at all Distances
Cataracts blur your vision. Fortunately, the trifocal lens restores your sight and allows you to have crisp sight at all times: up close, intermediate, and at a distance.
Treat Presbyopia and Cataracts
The PanOptix IOL can reduce presbyopia by bending light that comes into your eye. Presbyopia occurs when the lens loses flexibility as you get older. People with presbyopia find it challenging to complete up-close tasks.
Vivity Lens
The Vivity intraocular lens utilizes X-Wave, a proprietary non-diffractive technology that not only bends but also stretches light. It can offer an uninterrupted, extended range of vision rather than splitting light into different focal points.
Benefits of Vivity Lenses
Continuous Extended Range of Vision
Unlike other IOLs, the continuous extended range of vision in Vivity lenses minimizes visual disturbances, including glares, halos, and starbursts. This makes it possible for you to drive comfortably and safely at night.
Quality Vision at All Distances and Lighting Situations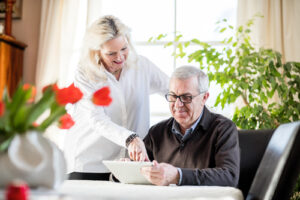 With the Vivity lens, you can enjoy improved vision at intermediate and far distance ranges. This premium lens also performs well in all lighting, including in bright or dim situations.
Correct Astigmatism with the Toric Model
There is a toric model of the Vivity lens for patients with astigmatism, allowing you to reduce your astigmatism at the time of cataract surgery.
Active Focus Lens
The Active Focus is a unique IOL that provides superb distance vision. Although the Active Focus lens improves patients' comprehensive range of sight, you'll still require low-power glasses for up-close reading.
Benefits of Active Focus Lenses
Other IOL designs often compromise distance vision in an attempt to give patients a range of vision. The Active Focus lens is the only multifocal IOL that uses the entire central portion of the lens to deliver excellent distance vision.
Symfony Lens Implant
The Symfony lens implant elongates the focus of your eye to achieve extended sight.
Benefits of Symfony Lenses
Delivers an Extended Range of Vision
The Symfony lens has been popular with patients. It delivers an extended range of vision, providing patients with good vision at a distance and intermediate distances.
Toric Model Safe for Patients with Astigmatism
Patients with astigmatism can benefit tremendously from the toric model of the Symfony lens, called the Tecnis Symfony Toric lens that corrects astigmatism during cataract surgery.
Toric Lens
The unique design of the Toric IOL enables it to deliver more benefits than a traditional IOL. These lenses are specifically designed for patients with astigmatism. Choosing a toric IOL ensures that you will have cataract correction as well as astigmatism management during cataract surgery.
Benefits of Toric Lenses
Improve Distance Vision by Correcting Astigmatism
Toric lenses neutralize the astigmatism of the cornea, eliminating or reducing astigmatism. As a result, patients can see much more clearly without glasses when looking at things that are far away.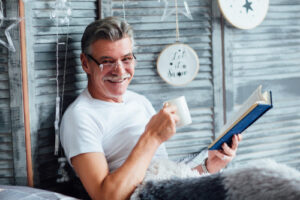 You will still need reading glasses when seeing things up-close, like working on the computer or reading a book.
Fewer Incidences of Significant Glare and Halos
The technology used in toric lenses has fewer incidences of significant glare and halos, as reported with monofocal lenses.
Monovision
Monovision works by correcting vision with two different lenses. To achieve monovision, you will have one lens placed in your eye that improves your up-close vision and another lens placed in the other eye that will improve your distance vision.
Usually, the lens that enhances your ability to see things up-close is set in the non-dominant eye, while the lens that provides excellent distance vision is in the dominant eye. Both eyes seamlessly coordinate focus to deliver clear vision at all distances.
It may take patients a few months to adjust to monovision if they have not tried it out with contact lenses or LASIK before having cataract surgery.
Benefits of Monovision
Clearer Vision Without Glasses
Your up-close vision will be clearer with monovision lenses than without glasses.
Schedule Your Cataract Consultation Today
Trust your vision to Desert Vision Center's compassionate, board-certified cataract surgeon, Dr. Tokuhara. At Desert Vision Center, we utilize the most advanced technologies to treat cataracts and correct your vision.
With many premium lens options to choose from, we will have no problem finding the right lens to give you your visual freedom back. If you have previously had LASIK and now need cataract surgery, schedule a cataract consultation at Desert Vision Center in Rancho Mirage, CA, today.