Advanced Technology Cataract IOLs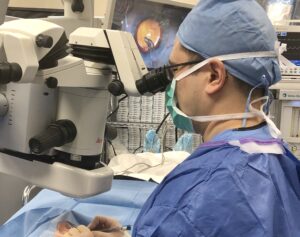 Advanced technology cataract lens implants (IOLs) utilize enhanced optics to provide much more than correction of blurry vision from cataracts alone. These implants are a lifestyle choice for patients who wish to be more independent from glasses. Each of these implants works slightly differently, and not all implants are right for all patients. Dr. Tokuhara has extensive experience with advanced technology cataract lens implants, and takes pride in helping each patient make an informed decision on an implant that will provide a lifetime of clear vision.
PanOptix Trifocal Lens
The PanOptix Lens has been widely used worldwide and is now released by the FDA. It is the first and only trifocal lens implant approved for use in the US that corrects three conditions: cataracts, astigmatism, and presbyopia. Dr. Tokuhara is one of the first surgeons in the US to use this new technology lens. The PanOptix lens is best for patients who desire the greatest range in vision without glasses, for better distance vision and easier reading without glasses.
Vivity Lens
These implants are designed for patients that desire both best distance and intermediate range of vision.
The Vivity Lens implant, approved for cataract surgery by the FDA in 2020, has a novel optical design with two smooth surface transition elements on the front surface of the IOL that create a continuous extended range of vision rather than separate focal points. Dr. Tokuhara is the very first surgeon to implant this new lens in the Coachella Valley and one of the first in the United States to offer this new technology for patients. The optical design of the Vivity Lens allows patients to experience an extended range of vision with reduced glare and halo side effects.
There are other premium lens options, including Active Focus and Symfony Lens Implants. The Active Focus lens is multifocal with two zones of vision for across the room and at arms length distances. The Symfony lens has an extended depth of field for distance and intermediate ranges of vision. Patients with an active daytime lifestyle that use electronics such as tablets or smartphones, are the best candidates for these lenses.
For some fine print and up close reading, patients with the Vivity, Active Focus and Symfony lens will need help with low power reading glasses.
Toric Lens
The toric lens premium cataract implants are best for patients with moderate-to-severe astigmatism. These lenses correct both cataracts and astigmatism, providing the very best distance vision. Patients with the toric lens implant will still need reading glasses for near vision, such as reading or on the computer.
Monovision
An alternative to multifocal lens implants is monovision. Patient's with monovision cataract surgery have one eye corrected for distance and the other eye corrected for near. The best candidates for monovision cataract surgery are patient's who have already successfully tried monovision with either contact lenses or LASIK surgery.