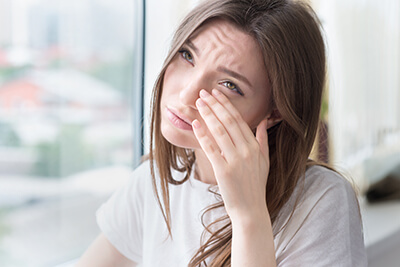 The Southern California Desert is one of the driest places on Earth. Finding solutions for Dry Eye Disease is more important now than ever. Our program at Desert Vision Center has the ability to change peoples lives, incorporating state-of-the-art diagnostic, holistic, and therapeutic options available. 
On your initial examination, core dry eye metrics are taken and a thorough eye examination is performed. If there is any suspicion of other co-morbidities, further testing may be completed during your visit. Desert Vision Center is a CLIA approved laboratory center certified for dry eye tear testing through CMS.
Treatment options are customized based on your dry eye test results. At Desert Vision Center, we understand that not every patient with dry eye disease requires long-term prescriptions. Many patients can have long-lasting dry eye relief with holistic alternatives, and in-office procedures.
What are the symptoms of Dry Eye?
Redness and Tearing
Eye Fatigue
Grittiness
Fluctuating Vision
Intolerance to contact lenses
History of eye surgery, including LASIK
If you have dry eye disease, call Desert Vision Center for a dry eye disease consultation.